What documents do I need to get a car loan?
To properly process your auto loan request at the Interstate Ford, you will be required to provide us with some basic information. One of our credit experts can walk you through the process, or you can simply fill in the Finance Form on our website and we will contact you with your approval information.
Information needed when applying for a car loan:
Proof of Income, Residence, Driver's License & Up to 4 References


Employment Information:

Aside from your pay stub, you will also need a phone number for the lender to verify employment.


Trade Information:

The name and account number of the bank your current car is financed through and current registration or title.

Additional Information the Lenders May Request:

It is rare that we will need any additional information, but in some cases it may need to be provided. Once again, the members of our financing department at Interstate Ford, will work hand-in-hand with you to streamline and simplify the process.
Getting an Ford car loan can be easy!

Finance Managers
Tim Green ( 20 Years Experience )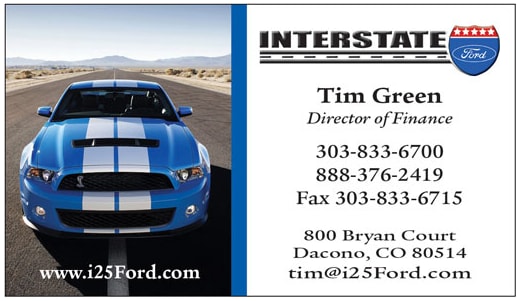 Steve Thompson ( 18 Years Experience )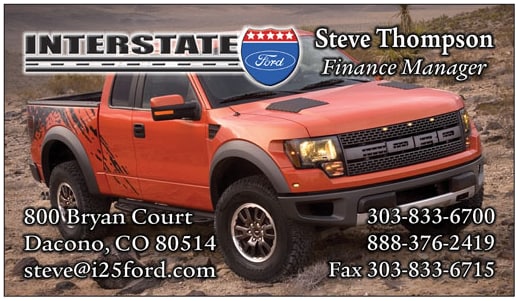 Interstate Ford

Denver Colorado Area Car Loans
Interstate Ford has auto financing programs for all types of credit, from perfect to not so perfect credit. We handle special car financing to get everyone who comes to our dealership from Denver and the surrounding area the best available rate on a car loan. That's why Interstate Ford has been the preferred destination for
car loans in the Denver, Brighton, Longmont, and Boulder area
. Our new and used auto loan program keeps customers from Longmont, Golden and Boulder, CO, returning again and again.
We've built our website to help Colorado customers get the information they need, to find their budget, select the right car or truck, and apply for financing. Use our payment calculator to get estimated monthly payments, find your budget, and pull vehicles right from our inventory that fall within your budget. As your number one Denver Ford dealers, we have financing options on every used car and new Ford car that we sell.
If you're ready to apply for your car loan, you can do it right through our online car loan application. The information is kept secure and not sent via email. You can also stop by the dealership in Dacono. We are just 10 miles from Longmont and 15 miles from Boulder; located at 800 Bryan Court, Dacono, Colorado, just off of Interstate 25. If you have any questions for our finance department regarding your auto loan, feel free to call us at (303) 833-6700.